Our providers at Eastern Cardiology are closely monitoring the developments of the 2019 Novel Coronavirus (COVID-19) via the NC Department of Health, World Health Organization (WHO), and U.S. Centers for Disease Control (CDC).
Eastern Cardiology is currently open, Monday-Thursday 8:30-5:00pm and seeing patients as well as offering telehealth appointments.
In light of the recent Coronavirus (COVID-19) outbreak, we kindly request if you are experiencing flu like symptoms, traveled in the past 14 days, or have been in contact with anyone who has tested positive to coronavirus please remain home and refrain from visiting our office as a precaution to prevent further transmission to others.
Eastern Cardiology has increased cleaning and disinfecting protocols, altered our lobby to promote social distancing, and created a COVID screening process at the door. The health and well-being of our patients and staff are our top priority therefore visitors are no longer permitted inside the building (limited exceptions may be made).
If you have any questions or concerns please contact our office at 252-757-3333.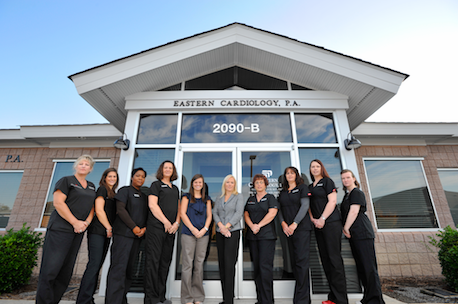 Eastern Cardiology welcomes you and promises to provide compassionate, courteous, personable, and prompt care.
Why Choose Eastern Cardiology?
Eastern Cardiology is a small practice with "individualized" care and are not hospital owned.
We want you to know that you are not alone. Every year millions of people are affected by heart problems. Fortunately multiple treatments are available, which can eliminate or greatly reduce the effects of these diseases.
The staff and physicians at Eastern Cardiology are committed to working with you and your family physician to make visits to our office as easy and comfortable as possible. Should any heart disease be found, we are equally committed to assisting you and your family physician in its treatment, as well as prevention of additional problems.